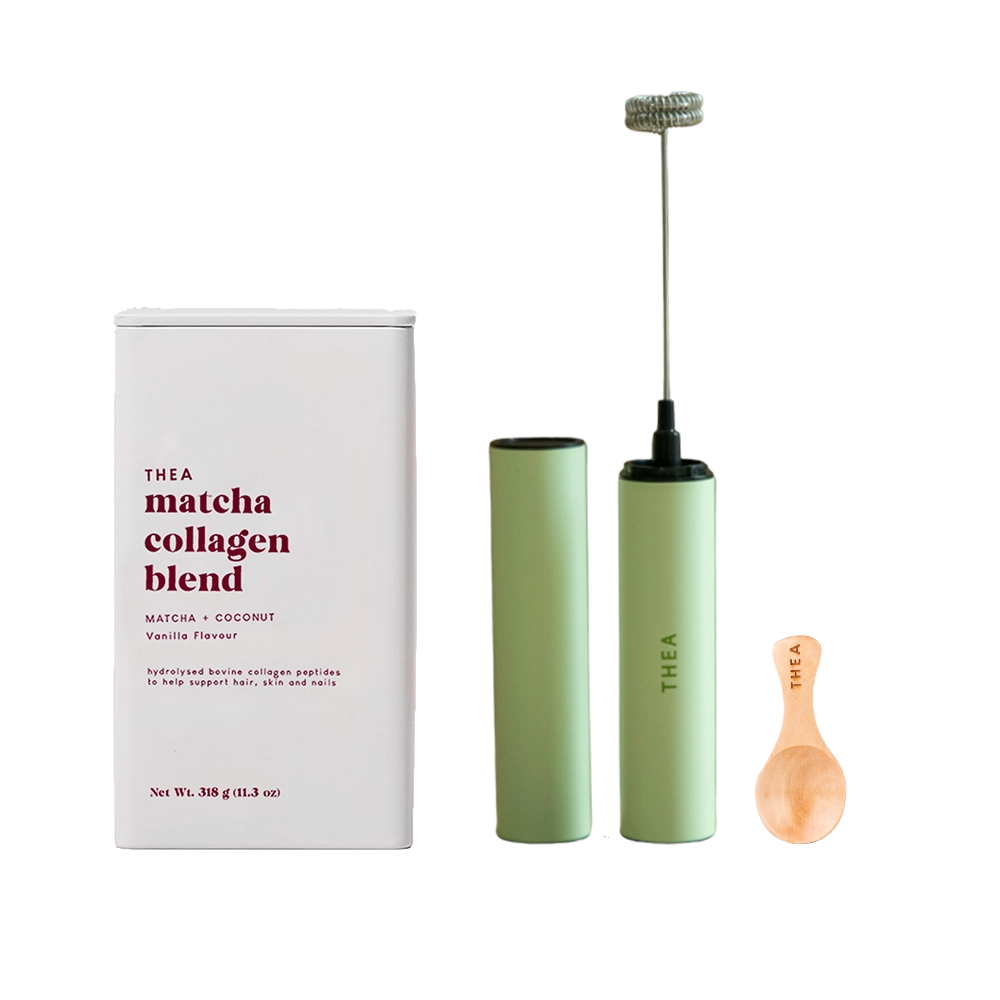 Calling all collagen connoisseurs! The ultimate collagen bundle to make your daily ritual easier. Scoop your collagen with our wooden tablespoon (goodbye single use scoops!) and whisk your collagen with electric frother (perfect for cups/mugs).
Contains 1 x handmade wooden spoon , 1 x Electric Frother and 1 x Collagen Energy Blend with Matcha.
 Keep your collagen in our cute usable tin (also recyclable)! We offer a subscription service where your next order of collagen comes in a home compostable bag. This is available from your second order.
Matcha Collagen Energy Blend
We've formulated this blend as your new daily! Blended with premium grade matcha powder that is a source of antioxidants and caffeine as well as collagen, organic coconut milk powder, Vitamin C and a hint of vanilla. With 2.1g of carbohydrates per serving, this makes it keto-friendly.
Collagen is the foundation of to healthy joints, bone and skin health in addition to being the most abundant protein in your body.
Our collagen powder is highly purified collagen peptides from bovine skin, neutral in taste and smell. The average molecular weight is approx. 3,000 g/mol making it bioavailable and easier for the gut to absorb.
Vitamin C enhances the absorption of collagen as well as contributes to collagen formation. 
Collagen Essentials Blend
We're keeping it simple with this blend. It only has bioavailable marine collagen peptides, hydrating tremella mushroom extract powder and Vitamin C to support your hair, skin and nails. 
Collagen is the foundation of healthy joints, bone and skin health in addition to being the most abundant protein in your body.
Our collagen is highly purified collagen peptides from marine sources, neutral in taste and smell. 

Tremella aka Snow Mushroom has long been used by Traditional Chinese Medicine and touted for being a superfood high in antioxidants, anti-inflammation and has hydration qualities. Tremella can hold up to 500 times its weight in water.
FAQ
What does Matcha taste like?
It is rich, balanced yet sharp. Our matcha is unique to our organic farm, it smells sweet with earthy undertones, a fruity aroma and tang. Poor quality Matcha will taste bitter and be close to yellow tones as opposed to green tones.
What can I use Matcha for?
Almost anything you like - get creative! Most popular recipes include tea, lattes, chocolate, smoothies, pasta and list goes on.
Can I have too much Matcha?
While 1/2 tspn - 1 tspn is all you need to get the benefits of Matcha, there is only so much your body can absorb. One to two servings of Matcha per day is reasonable. But remember, keep everything in moderation.
What's the best way to store Thea Matcha?
Keep in a cool, dry spot, sealed in an airtight container that you can recycle or reuse. Our tins are available in 30g, 50g (limited time) and 100g. To increase the shelf life, storing in fridge is the best option. Keep away from storing in glass as it will expose matcha to sunlight.
Do you offer Buy Now Pay Later on subscriptions?
Unfortunately we are not able to activate Laybuy/Afterpay on subscription products due to the incompatibility between the software. BNPL is available on non subscription products only.
Can I use my loyalty points on my subscription order?
Yes you can, but codes do not automatically sync up with our subscription app so please chat with us or email hello@thea.co.nz and we will get that applied ASAP!
Shipping
Free Shipping over $50*
Free standard shipping for orders over $50 in New Zealand, over $75 for Australia and $150 everywhere else.
​How long will my order take to arrive?
​It may take up to 24 - 48 working hours to process your order. Delivery times will be up to 2 working days. Rural, please allow an extra 2 working days. Your order will be delivered with NZ Post (non signature) or Aramex. We do try to get this out to you as soon as possible! For International orders, it may take up to 24 - 48 hours to process your order and it will take 2-6 working days for express delivery with DHL Express OR up to 21 working days for standard delivery through NZ International post.If a product is out of stock, we will notify you. If you have pre-ordered product, we will let you know asap on any updates!
​Do you ship to PO boxes?
We do not ship to PO boxes - sorry!